This month, we'll be supporting our Petri Project, Quince with outdoor socially distanced public performances that integrate COVID-19 safety precautions into the world of the show. Quince, written and created by Camilo Quiroz-Vazquez and directed and created by Ellpetha Tsivicos, is an immersive theatrical experience where we invite audiences to enter a not-so-traditional quinceañera featuring the story of Cynthia, a 14-year-old Mexican American girl confronting her queer identity on the eve of her special day.
Performances will be at the People's Garden in Bushwick, Brooklyn. Performances are:
Friday, August 21st at 5:30 pm
Friday, August 21st at 8:00pm
Saturday, August 22nd at 5:30pm
Saturday, August 22nd at 8:00pm
Runtime is 75 minutes
Tickets are free but must be reserved ahead of time due to limited capacity. You can reserve your ticket here.
Please read below on our COVID-19 Safety Precautions & Protocols:
The People's Garden is a large outdoor community garden and we have hired crew members trained by an OSHA certified COVID-19 Production Infection Control Agent to help maintain strict social distancing between audience members and performers. Audience seating will be set 6-feet apart and groupings will be no larger than 2-4 individuals from the same household. Our crew members will also help us keep audience capacity limited with no more than 45 individuals for each performance.
Masks will be mandatory for all audience members and performers at ALL times. We will be providing custom "Quinceañera" themed masks for all attendees upon arrival, and individuals can switch their masks or take it home as a keepsake. Performers will be masked and distanced from audience members and we will use sound equipment to help with acoustics.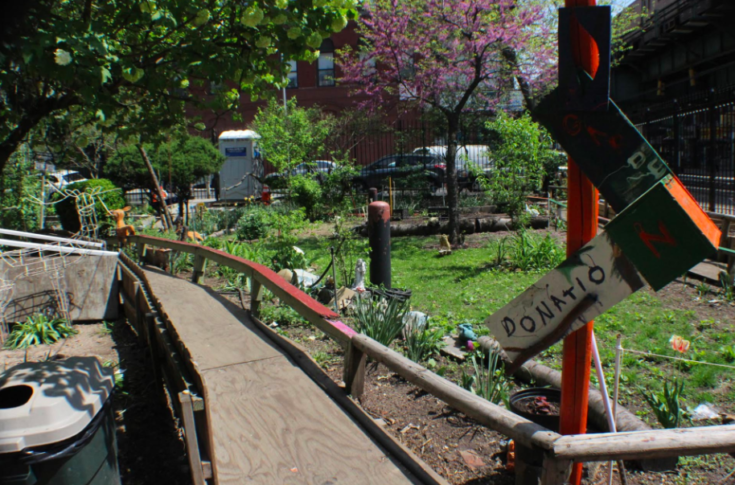 Audience traffic flow will be regulated within the garden by our safety crew members. Upon arrival, audience members will be split into two groups "Track A" and "Track B" that will help regulate traffic to audience seating and provide two unique experiences for the guests in and out of the garden. Additionally, crew members will thoroughly disinfect all surfaces, seating areas, equipment, tables, etc. between performances. Run time is 75 minutes and we will be clearing the garden an hour before each performance.
We've partnered with The Buren Bar and Grill (1223 Broadway, Brooklyn, NY), around the corner, to provide clean, sanitary bathrooms for all attendees. Stop by before or after the performance for the "Quince" cocktail.